inSeption Group Recognized Among Philadelphia Business Journal's 2023 Best Places to Work
inSeption Group has been recognized as a finalist on the Philadelphia Business Journal's 2023 Best Places to Work list. This year's list includes 96 companies from across the region, ranked by employee feedback. On July 28, inSeption Group will be featured in a special Philadelphia Business Journal publication.
Award applicants were evaluated and ranked across five categories according to the number of Greater Philadelphia employees. The survey measures each company's culture and takes into consideration compensation, benefits, and trust in senior leadership.
"We are honored and thrilled to have received the esteemed Philadelphia Business Journal's Best Places to Work award. This accolade validates our commitment to fostering a positive workplace culture at inSeption Group. Our emphasis on cultivating a supportive environment translates into an industry-leading retention rate, allowing for effective collaboration, a shared sense of purpose, and ultimately delivering a superior level of service to our valued clients. We are dedicated to restoring trust and confidence in clinical outsourcing and will continue to strive for excellence in everything we do." – Joseph Arcangelo, Co-Founder & Managing Partner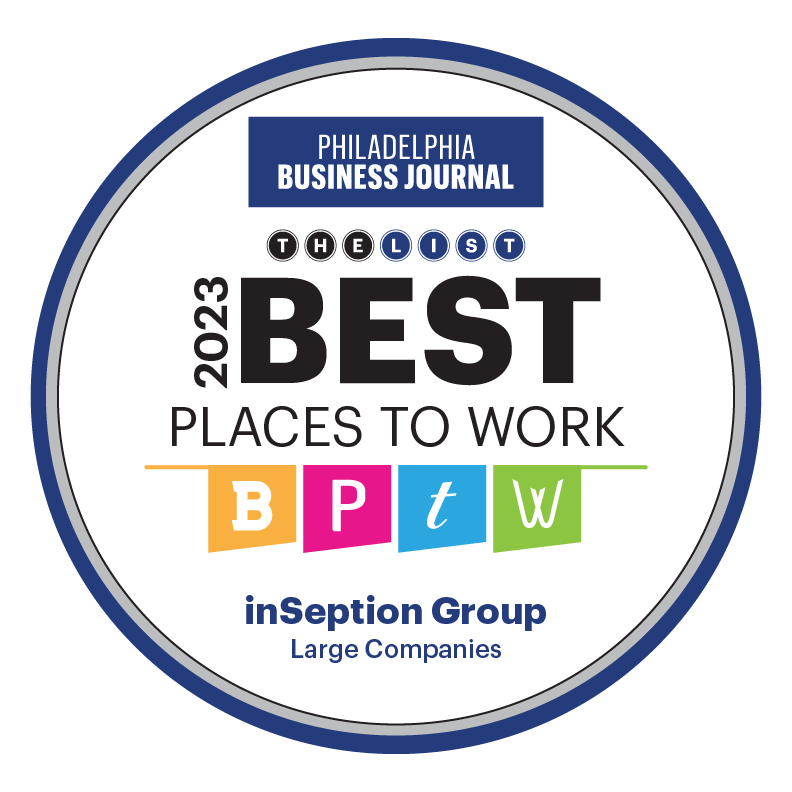 About inSeption Group
inSeption Group is a clinical full-service, global outsourcing organization built on a foundational culture of exceptional service and quality. This culture attracts a subset of people who take a personal responsibility to deliver on what has been promised. inSeption Group's ability to custom-build teams with these experts while providing valuable continuity distinguishes our approach from traditional outsourcing options.
About 2023 Philadelphia Business Journal Best Places to Work
Best Places to Work is an innovative publication and awards program produced by the Philadelphia Business Journal. The rankings were determined by surveys that went directly to employees who answered a series of questions. The survey was administered online by the employers and through a service provided by Quantum Workplace, our research partner. The rankings are numeric based on Quantum's scoring process. By ranking companies and sharing best practices we facilitate idea sharing and help other companies learn from the best.